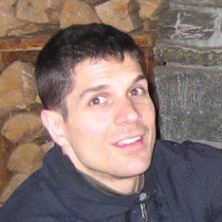 Day Job
I'm a product manager at NPR digital. I run our APIs, which you can now learn by taking a Codecademy course. I'm one of the inventors of the Infinite Player, an experiment in continuous, personalized listening. I'm also very interested in what open hardware sensors mean for news and society.
I'm a big fan of open source software and open data. I love and live the public media mission to create a more informed, culturally-enriched society.
What else?
Lover of bicycles. Husband. Father. Enthusiastic supporter of coffee and craft beers.
All ideas posted here are mine alone and are not the views of my employer.
---
Community and Speaking
Some recent speaking engagements include: SXSW, Columbia Journalism School, TechRaking, ASNE, E2 Innovate, IMA, ONA, O'Reilly News Foo, and ORD Camp. I prefer the unconference format to all others. I've advised editorial and product staff at CNN, BBC, CBC, Washington Post, NPR member stations, and the Center for American Progress.
I discussed a few of my favorite NPR projects during an O'Reilly Ignite Talk on Reinventing Radio on Digital Platforms:
Talk to me
Resumes:
---